Facts
Gemini
Chemistry, astronomy, biology, geology
If you have an optimistic attitude, the world will get better
Tanishq Abraham is an American child prodigy and genius from Sacramento, California. He is one of the youngest university graduates in the country. Despite his young age, he already gave lectures during major scientific conferences as well as appeared as a guest in a number of TV shows and documentaries.
Personal life
Tanishq Abraham was born in Sacramento, California in a family of software engineer Bijou Abraham and veterinarian Taji Abraham. His parents immigrated to the United States from Kerala, India. Both of them, but especially Taji recall that Tanishq loved to listen to children's books when he was toddler. BY the time Abraham was two, he remembered everything he read and heard and even knew how to tell time on the clock.
Tanishq describes himself as being "self-motivated, curious about the mechanics of things, a passionate learner, goal setter, a hard-worker and an over-achiever". He enjoys all things science, technology, politics, movies and sports. Loves to interact and talk with people. Aside from his love for natural sciences Tanishq also enjoys playing the piano and is even a member of a choir group.
His other interests include chess, tennis and table tennis. Abraham also enjoys a good swim, as well as watching television when he has the time. American Soccer is one of his favorite sports to watch.
Tanishq is self-motivated, curious about the mechanics of things, a passionate learner, goal setter (and achieving those goals!), a hard-worker and an over-achiever. He enjoys all things science, technology, politics, movies and sports.
He is not the only achiever in his family. His younger sister Tiara is an accomplished singer and is also fluent in several languages. She had released her Christmas album at the age of 9 and was member of Mensa society when she was just four-year-old.
Academic carrier
When Tanishq was only only 5, he took math courses from Stanford University. It took him only 6 months to finish the course that was specifically designed for gifted youth. A year later he already started high school and college courses in chemistry, paleontology, biology, and geology. Abraham was only 7 when he enrolled for Geology and Astronomy courses in the American River College, Sacramento. He finished both of the courses with straight A's.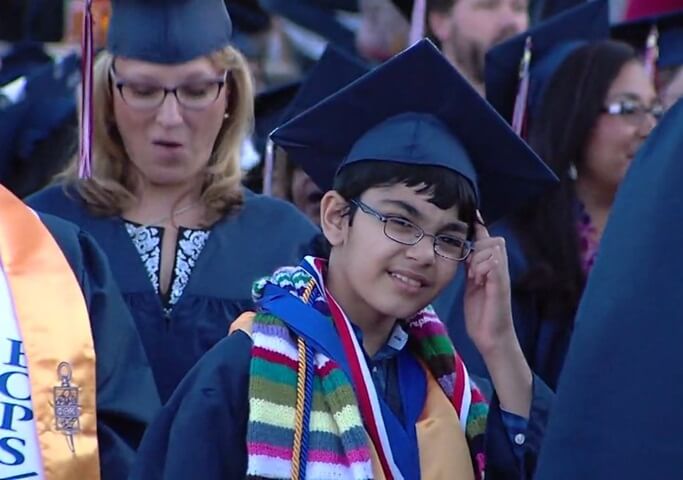 Abraham graduated high school when he was only 10 years old with a 4.0 GPA. A year later Tanishq got 3 collage Associate Degrees yet again boasting an impressive 4.0 GPA. He managed to finish the biomedical engineer program from University of California. Graduating at this young age made Abraham the youngest person to achieve the degree. Tanishq was only 15 when he signed up on th. biomedical engineering PhD program.
Of course I feel very happy, very excited, and I'm very proud of my accomplishments
He is currently doing his second year as a PhD student at UC Davis. Abraham worked in the Levenson lab at the university for a year. There Tanishq was focused on applying deep learning to novel microscopy techniques in order to enable digital pathology applications. Last year he visited the ICML2020 Computational Biology workshop where he presented his PhD research.
During his time as an undergraduate Tanishq presented his papers and several scientific conferences. On the year of his graduation he became the first author on a review paper in IOP Physical Biology. It dealt with bio-inspired vesicles and it's biomedical engineering applications. Abraham contributed a chapter for the book "Artificial Intelligence and Deep Learning in Pathology".
Most recently Tanishq reviewed several science fiction books and a book about machine learning.
Appearances on TV
During his life Tanishq was a quest on several international TV and radio programs. These include such shows as: Child Genius, CNN Newsroom, The UnXplained and others. He also gave a lecture on the stage of TEDx in 2013.
Best Known For
:
Being the youngest American to receive a degree in biomedical engineering.
Fulfilled his Potential
:
Yes
Father's Name
:
Bijou Abraham
Father's Occupation
:
Software engineer
Mother's Name
:
Taji Abraham
Mother's Occupation
:
Veterinarian
Resident Of
:
Sacramento, California
Citizen Of
:
United States
People Who Read This Article Also Read About...